Unicorns: Which are Growing, Which Are Shrinking?

Valuing startups from the outside can be challenging. As a proxy, startups are commonly assessed based on headcount growth and total funding received. In this report, we analyzed which of the unicorns (private companies with a reported valuation above $1 billion) are exhibiting signs of growth/decline based on detected changes in headcount.

We pulled metrics on 157 unicorns from the Craft database to see which are growing headcount and which are shrinking. Craft is a data and analytics platform building the "Source of Truth" on companies and mapping the global economy.
In the table below, we took a close look at the top 20 growing ranked by employee growth rate (monthly average for past six months).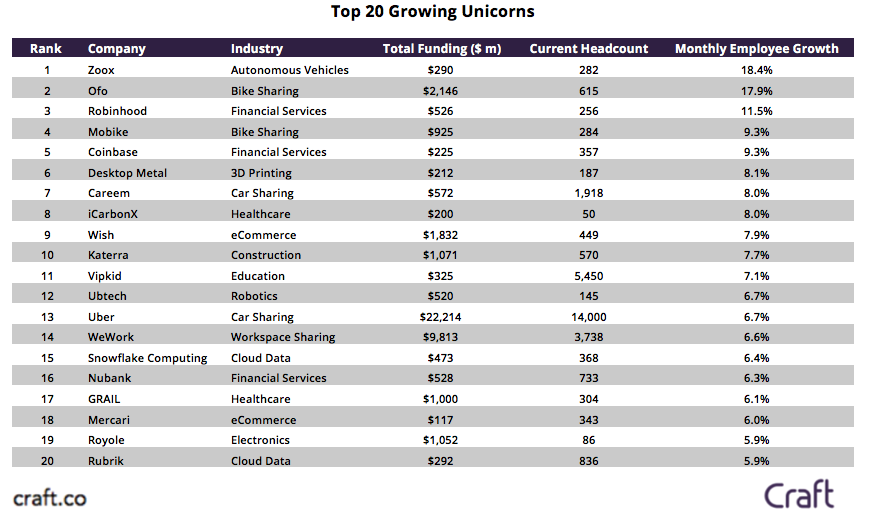 Out of the top 20 fastest growing unicorns, five are transportation sharing platforms (car and bike sharing), and one (WeWork) is in shared workspace. Other industries that top the list include trading platforms (Robinhood and Coinbase), eCommerce (Wish and Mercari), healthcare (iCarbonX and GRAIL), and cloud data analytics (Snowflake and Rubrik).


Next, we look at the top 20 shrinking unicorns:
In the top 20 shrinking, eCommerce companies (Mozido and Global Fashion Group) topped the list with a wide distribution of other categories also represented.

Finally, we looked at the total announced funding, current estimated headcount, and the average monthly headcount growth for all 157 unicorns, in the table below.
In the table above, we can see that out of the 157 unicorns, 139 are growing, while only 18 have negative growth. Further, the overall median growth rate is +2.4%. Looking at the overall distribution graphically below, we can again clearly see that the vast majority of unicorns are increasing in headcount.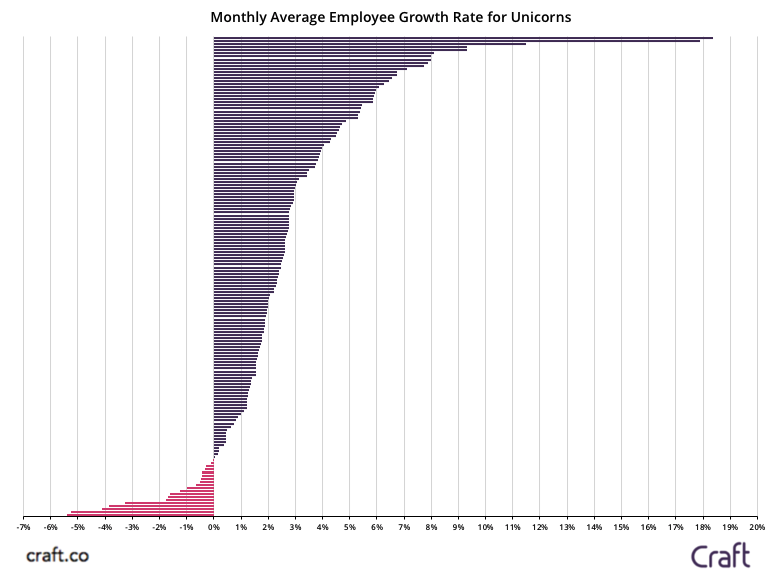 Key Takeaways:
Many more unicorns are growing rather than shrinking, with a median growth rate of +2.4%
The sharing economy continues to steam ahead, with six of the Top 20 Growing Unicorns list operating in this space
Sources:
News articles, company announcements, social media, and Craft analysis
About Craft:
Craft is a machine-learning powered data and analytics platform building the 'Source of Truth' on companies, and mapping the global economy. We organize data from thousands of sources to provide comprehensive, up-to-date sector and company profiles, ranging from early-stage to the largest companies in the world.


As the economy, and nature of work continue to undergo massive transformation, Craft's mission is to provide context and freely available tools to help people discover and evaluate companies and opportunities. Our platform is used for market and sector research, customer lead generation, competitive analysis and career search.


We welcome your feedback. Please feel free to contact us at hello@craft.co.