Do Investors Care about Profits at IPO? Not Really
Between 2016 and 2018, 46 Technology companies had an IPO, of which 18 IPO'd in the first half of 2018. We analyzed the companies' financials at the time of IPO (based on their S-1 filings) and how their stocks have performed.
All 46 companies, except Snap, had a positive Gross Margin at IPO. The average Gross Margin across the 46 companies was 57% while Snap's Gross Margin was -12%.  The high cost of revenue for Snap is due to the cloud-computing power needed to host its messages, and the cost of creating original content and hardware, such as "Spectacles." For most software companies, the Cost of Revenue is only the hosting and serving costs. Online travel platform Trivago, for instance, reported revenue of $535M and cost of revenue $3.1M, resulting in a gross margin of 99%. 

To measure profitability, we considered 3 metrics: Operating Profit measured as Earnings Before Interest & Tax (EBIT), Net Income and Operating Cash Flow:
Of the 46 companies, 14 had positive Operating Profit, 11 had positive Net Income, and 25 were generating positive Operating Cash Flow.

Below are the eleven companies that IPO'd with positive Net Profit, although 3 of them were very close to the line...
Observations:

With the highest Net Margin, at 43%, Greensky is a Financial Technology company that provides consumer loans for home improvement. 
The Cloud sector dominates the rest of the list as Pivotal Software, Dropbox, Switch, and Presidio all fall into this category
Both The Trade Desk and CarGurus are marketplaces, which provide a platform for buyers and sellers to meet and collects fees from both sides.

Of the 33 companies that IPO'd with a Net Loss, these are the 10 companies with the most negative Net Margin: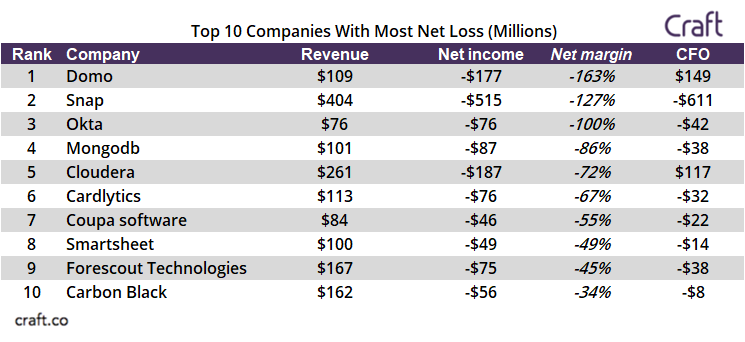 Next, we looked at the Operating Expenses of these businesses. Tech companies tend to spend more on Research and Development than traditional companies. The average R&D spending for these 46 companies was 22% of Revenue at their IPO, whereas the average R&D expense is 5% of Revenue across all industries in the US (Source: PwC). 
The average Sales and Marketing expense was 47% of Revenue across the 46 companies. Domo, Okta, and Trivago were spending 121%, 102%, and 94% of their revenue on Sales and Marketing, respectively. Of the companies with positive Net Income, most spent below the average on Sales & Marketing as a % of Revenue:
Note: N/A indicates the company did not disclose a separate expense line item for Sales & Marketing spend. 
The companies which generated the lowest Net Income tended to spend relatively highly on Sales & Marketing as % of Revenue.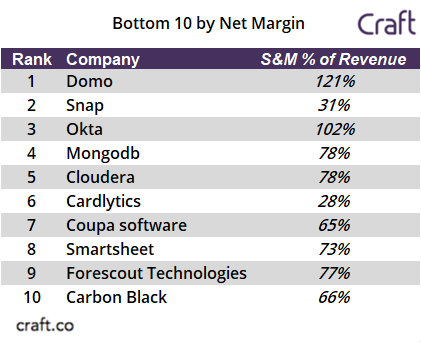 Stock Market Performance since IPO
Next, we looked at the top 5 and bottom 5 companies ranked by Net Margin, and their share price performance, to see if there is a link between profitability at the time of IPO and subsequent stock market performance. All prices are daily Adjusted Close, indexed to 100 on the IPO date.
Five Companies with Highest Net Margin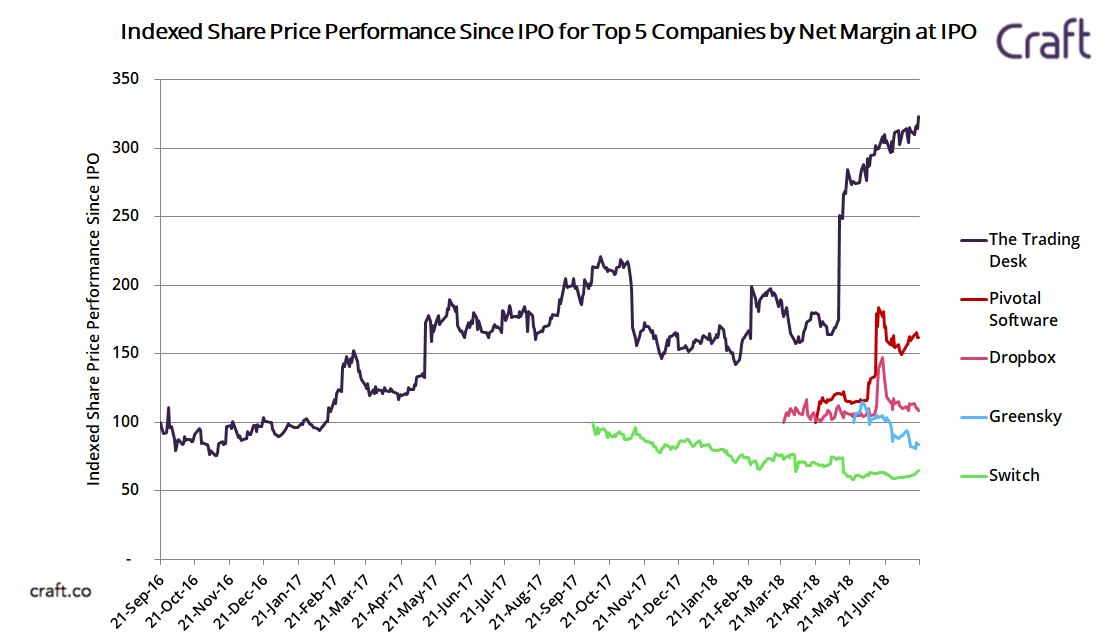 Three of the five companies have traded up since their IPO, while Greensky and Switch are both trading below their IPO price.
Five Companies with Lowest Net Margin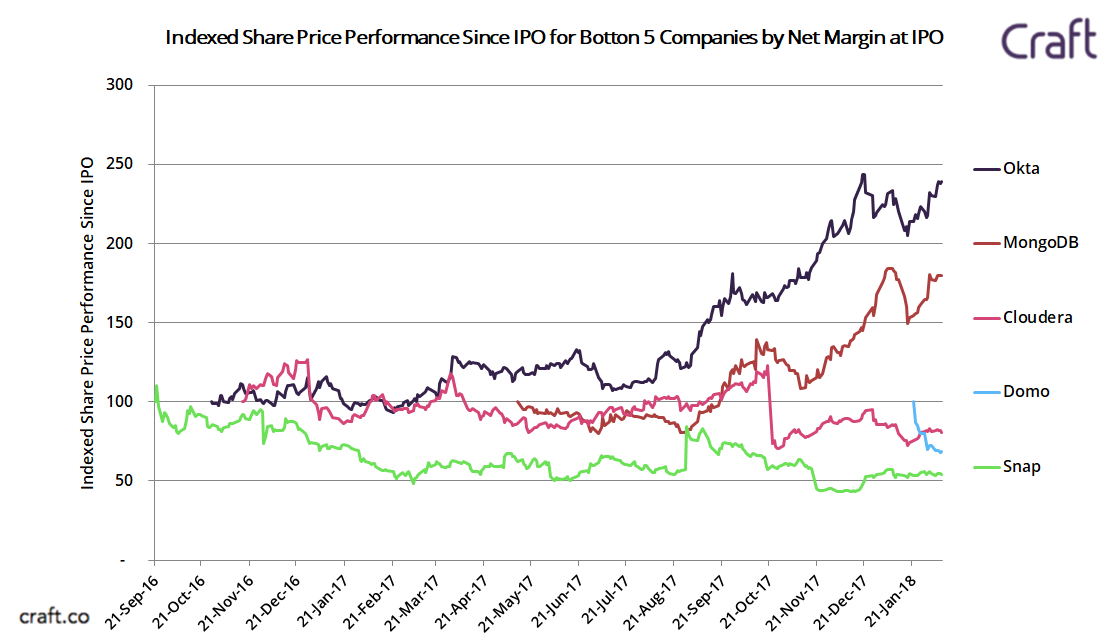 Despite having significantly negative Net Margins at IPO, Okta and MongoDB are still trading significantly above their IPO price, while Cloudera, Domo, and Snap are all trading below their IPO price.

From the two graphs above, we see the level of Net Income does not provide a strong indicator of future share price performance.
Here is the entire list of all Tech companies that have IPO'd since 2016:
Key takeaways: 

78% of companies (36) were not profitable at the time of IPO, in terms of Net Income
The companies were spending above industry average on Sales & Marketing
Initial profitability does not predict long-term performance in the stock market
Sources:
News articles, company announcements, social media, and Craft analysis


About Craft:

Craft is a machine-learning powered data and analytics platform building the 'Source of Truth' on companies, and mapping the global economy. We organize data from thousands of sources to provide comprehensive, up-to-date sector and company profiles, ranging from early-stage to the largest companies in the world.

As the economy, and nature of work continue to undergo massive transformation, Craft's mission is to provide context and freely available tools to help people discover and evaluate companies and opportunities. Our platform is used for market and sector research, customer lead generation, competitive analysis and career search.

We welcome your feedback. Please feel free to contact us at hello@craft.co.