Scooter Mania: A Look at The Rise of the Scooter Companies
On June 4th 2018, San Francisco first announced it had banned the local operations of scooter companies, Bird, LimeBike, and Spin. These motorized scooters could be found zipping through San Francisco streets, delighting some, pestering others, and catching the attention of the Municipal Transportation Agency (MTA). While this frenzy fueled conversation surrounding the fate of the electric scooter, it also alerted investors in search of the next disruptive transportation technology.


As the MTA worked to design a permit to regulate the maintenance and distribution of five select scooter companies (from 12 that applied for a San Francisco permit), we closely tracked the journey of the competing scooter companies. On August 30th, the MTA announced plans to offer permits to two companies previously viewed as "underdogs" in the scooter race, Scoot and Skip. In this report, we outline the funding each company has raised so far.

Following the temporary ban, the following 12 companies applied for permits. As of June 19, 2018, $1.8 billion total had been invested by venture funds including Alibaba, GV, Sequoia Capital and more.
The companies listed with "n/a" have not announced any funding in 2018.

Ofo, a Chinese bicycle sharing company, led the pack at $866M in funding. It is the only applicant of the 12 that is based internationally. LimeBike and Bird, two scooter companies that primarily occupied San Francisco streets, had $382M and $265M in funding respectively. Spin, another San Francisco player, had not yet announced funding as of June 2018. Uber tagged into the race by acquiring scooter company Jump for $250 M; Jump had already raised $18 M in 2018 prior to Uber's investment.


***
After MTA announced the temporary ban, it seemed as if #ScooterMania would subside. However, it only became more competitive, as LimeBike, Bird, Spin, and Lyft Bikes raised a total of $1.01 B collectively in July alone and rolled out aggressively in cities outside San Francisco.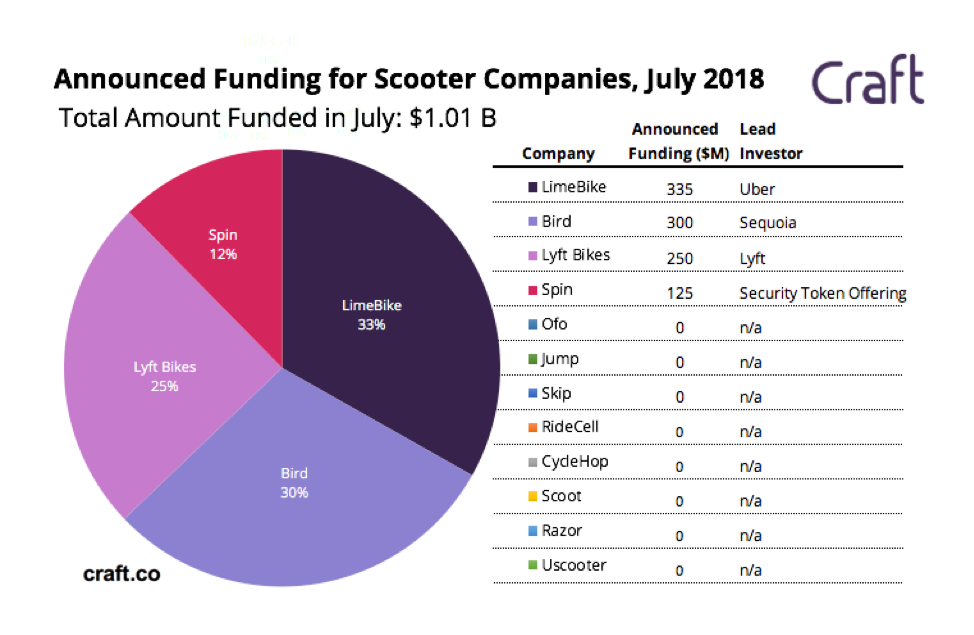 Bird received $300 M in funding, doubling its valuation from $1B to $2B. LimeBike, its main competitor, raised $335 M from Uber, who aims to make Lime rentals available on their app. They also will add their logo to Lime's green scooter. This is the second investment from Uber in the scooter category, as it seeks to become a one-stop shop for all transportation needs. Lime also took funding from Alphabet, GV, Atomico, and Andreessen Horowitz.
In June, Uber's primary competitor, Lyft, was rumored to be considering entering in the race, however, nothing had been formally announced. In July, Lyft acquired the scooter company, Motivate, for $250 M, rebranding it to Lyft Bikes.  Big players, like Lyft and Uber, have entered this domestic ride sharing market, which leave smaller scooter companies, like Scoot, RideCell, Uscooters, Skip, and CycleHop, relatively underfunded to compete.
Spin, one of the three initial favorites prior to San Francisco's temporary ban, did not receive funding in June. It still remains competitive with $125M raised. Spin is also the only company that raised funding via blockchain-based security token offering (STO), in which investors can buy tokens that are linked to Spin's revenue.
***
While Ofo and LimeBike have maintained their positions in the race as first and second (in terms of announced funding), Bird has jumped from fourth to third with $565M raised at a valuation of $2B.
The graph below may also indicate which scooter companies will dominate the urban transportation industry and expand to international locations. Ofo is situated in Beijing, China but aims to launch internationally; similarly, scooter companies like LimeBike and Bird have ramped up their global expansion to European cities. Bird has brought its dockless electric scooters to Paris, Tel Aviv, and more. According to Uber, its overall trip frequency increased by 15% by adding JUMP scooters to its ridesharing platform.
Looking at this funding distribution, many were surprised when the MTA announced Scoot and Skip had been awarded the contract over some of the other companies that had an earlier presence in San Francisco and significantly more funding. The application process was said to take into consideration the maintenance of distribution, charging, safe riding, and clearance of scooters in addition to the profitability of each scooter company. The MTA had the option to issue up to five permits with a cap of 2,500 scooters in total.
In the MTA press release announcing the permit awards, they specifically mention an emphasis on safety of riders and general public safety had a strong influence on the selection of Scoot and Skip.
It will be interesting to see how #ScooterMania plays out in other cities across the United States and throughout other major cities of the world.
***
Since the beginning of 2018 LimeBike has increased its amount of active cities by 2.5X. It has launched in over 70 active cities, including Paris, Berlin, Frankfurt and more.
Additionally, according to Lime's annual report published July 23, 2018, it has surpassed 6 million rides since its launch in June 2017. Bird, in comparison, recorded 1 million rides as of April 2018.
Due to Lime's funding from various investors, global expansion, and overall progress, we can use Lime as a proxy for trajectory of electric scooter companies. Lime's annual report shows that 27% of its riders use it to connect to public transit, and that half of riders come from households earning less than $75,000.
Providing dock free scooters to increase transit connectivity in urban areas catered to all demographics, promises a strong future for electric scooters. This is only the beginning of global Scooter Mania. We will continue to track data on this race to deliver personal electric transportation.


About Craft:

Craft is a machine-learning powered data and analytics platform building the 'Source of Truth' on companies, and mapping the global economy. We organize data from thousands of sources to provide comprehensive, up-to-date sector and company profiles, ranging from early-stage to the largest companies in the world.

As the economy and nature of work continue to undergo massive transformation, Craft's mission is to provide context and freely available tools to help people discover and evaluate companies and opportunities. Our platform is used for market and sector research, customer lead generation, competitive analysis and career search.

We welcome your feedback. Please feel free to contact us at hello@craft.co.