What Industry Spends The Most On Research And Development?
Research and Development expense reflects a company's commitment to long-term growth through innovation. Companies sacrifice short-term earnings to develop innovative technologies to stay ahead of their peers. In this report, we analyzed the S&P 100 for their absolute and relative R&D spend. Of the S&P 100, 57 of the companies disclose R&D spend in their financial results.

The 57 companies operate in five different sectors, and we first took an average of R&D Expense as a percentage of Revenue in each sector.


The sector that spends the most on R&D is Healthcare, with a strong focus on developing and bringing to market new drugs.

On the other hand, Industrial, Energy, and Materials companies spend little on R&D - on average only 3% of Revenue. Their expenses include scientific research, technical support, and patent costs. For instance, oil companies Exxon Mobil and Chevron (ranked last and third last on the list) spend less than 1% on disclosed R&D. In fact, the only activity that Exxon listed is research on technologies to reduce greenhouse gas emission.
Next we ranked each company by R&D Spend as a % of Revenue, and showed its variance (positive or negative) from the average of its sector.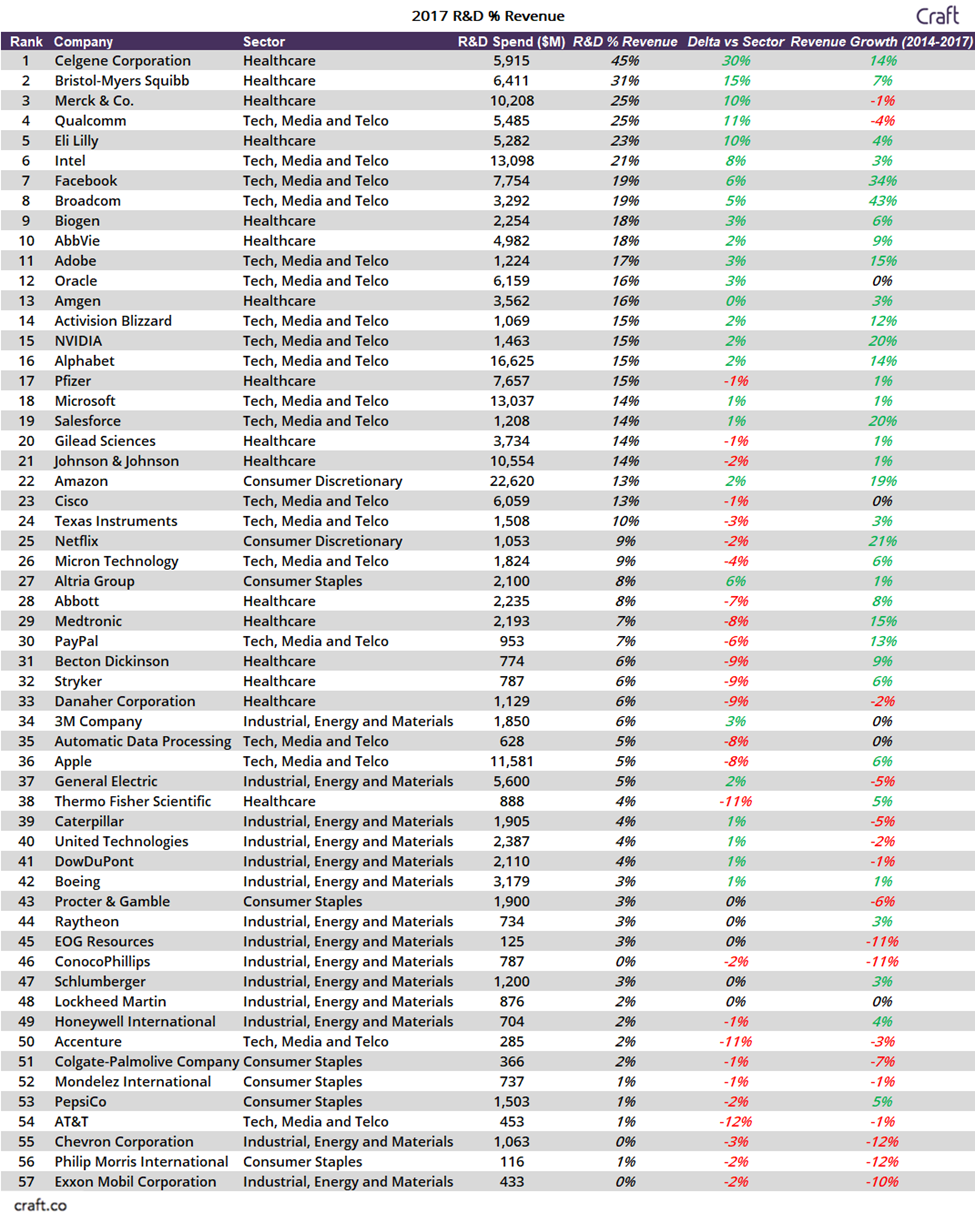 The top three companies on the list are all pharmaceutical companies Celgene, Bristol-Myers Squibb, and Merck & Co, spending 45%, 31% and 25% of Revenue on R&D, respectively, and each of them significantly above the sector average of 16%.
The second highest category was Technology, Media, and Telco. The top R&D spenders in TMT are chip-makers Qualcomm, Intel and Broadcom, and, in 7th place overall, Facebook. Both Qualcomm and Broadcom are semiconductor companies. In 2017, Qualcomm invested a large portion of sales in 4G and 5G-based technologies. Similarly, chipset giant Intel spent 21% of its sales on developing emerging technologies, including 5G, artificial intelligence, and autonomous vehicles.
Note: Amazon (ranked #22) and Netflix (ranked #25) are categorized as Consumer Discretionary, rather than TMT.

Lastly, we look at the relationship between R&D spend and Revenue Growth, to see if companies who spend more on R&D grow revenue faster.

For the fourteen Oil and Gas companies, average revenue growth was -5%. Similarly, for low R&D spenders in Consumer Staples, average revenue growth was -3%.

On the other hand, the average revenue growth since 2014 for the two highest R&D spending sectors, Tech and Healthcare, was 10% and 6%, respectively.

In total across the 57 companies, we see a slight positive correlation between Revenue Growth and R&D spend (correlation coefficient of 0.197). However, R&D is a long-term investment and continuous effort and, therefore, there might not be immediate effects on the business.
Key Takeaways:
The two industries that spend the most on Research and Development (as % of Revenue) are Healthcare and TMT, with an average of 16% and 13%, respectively.
With lower Revenue growth, the Industrial, Energy, and Materials companies and Consumer Staples companies spend much less on R&D (3%).
There is some correlation (correlation coefficient = 0.197) between R&D Spend and Revenue Growth.
Sources: 

News articles, company announcements, social media, and Craft analysis

About Craft:

Craft is a machine-learning powered data and analytics platform building the 'Source of Truth' on companies, and mapping the global economy. We organize data from thousands of sources to provide comprehensive, up-to-date sector and company profiles, ranging from early-stage to the largest companies in the world.

As the economy, and nature of work continue to undergo massive transformation, Craft's mission is to provide context and freely available tools to help people discover and evaluate companies and opportunities. Our platform is used for market and sector research, customer lead generation, competitive analysis and career search.

We welcome your feedback. Please feel free to contact us at hello@craft.co.