Financial Services Companies – Revenue Per Employee Analysis
Analysts use a variety of productivity metrics to compare a company's financial health with its peers. For companies in the financial services sector, return on assets is one popular comparison metric. However, financial service companies rely heavily on human as well as financial capital. One way to measure productivity of human capital is by calculating revenue per employee (RPE). We examined the companies in the financial services sector to see how they ranked in terms of this human productivity metric.

We tabulated the 2016 annual revenues and number of employees for more than 300 financial service companies in the Craft company dataset. The employee numbers exclude contractors and temporary employees.


Mortgage investment giants Fannie Mae and Freddie Mac top the list with $15.31 million and $11.02 million in RPE respectively in 2016. These ratios include revenues generated from the mortgage-backed securitization part of the businesses. Fannie Mae had an employee count of 7,000 at the end of 2016, while Freddie Mac had 5,959 employees.

National investment brokers INTL FCStone and Virtu Financial  occupy positions three and four. These businesses have historically been able to automate effectively and, therefore, produce impressive economies of scale. INTL FCStone  generated $10.54 million in RPE with 1,400 employees. The much smaller Virtu Financial, a relative newcomer to the online trading space, generated $4.75 million RPE with only 148 employees.

The top 20 list consists of 11 companies operating in the insurance industry – five in life, four in property and casualty, one in accident and health and one in security and title. Four companies on the list operate in the asset management industry, which is another highly scalable industry.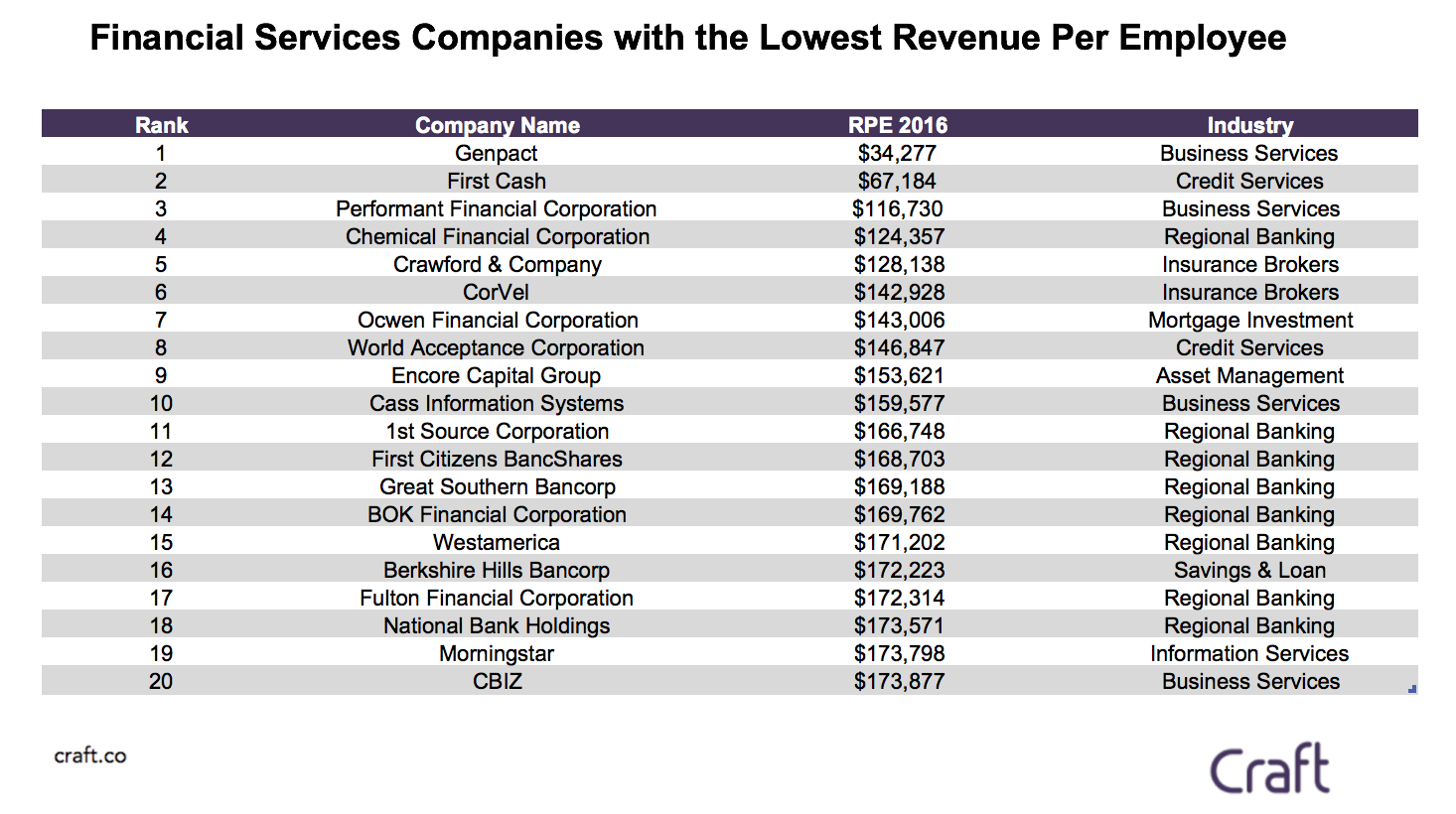 Business services corporation Genpact had the lowest RPE in the financial services group at $34,277, while credit services firm First Cash was second with an RPE of $67,184.

The 20 lowest RPE companies consisted of eight regional banks and four business services companies. Of the regional banks, seven have an RPE within a range of between $166,748 and $173,571. The eighth regional bank, Chemical Financial Corporation, had a lower RPE of $124,357.

The relatively narrow RPE range for the regional banks suggests RPE may be a useful predictive benchmark for valuation in this group. To test this hypothesis in a very basic way, we looked at the 52-week stock performance of the eight regional banks and compared them to 2016 RPE. As of October 24, 2017, the S&P 500 has a 52-week change of 21.52% while the KBW regional banking index has a 52-week change of 25.65%.
The stock performance of Chemical Financial Corporation lagged all but one of the regional banks in the lowest RPE group. However, all of the companies showed positive returns and only two, Chemical Financial Corporation and Westamerica underperformed the KBW regional banking index.

Next, we calculated the compound annual growth rate ("CAGR") in RPE from 2014 to 2016 for the top 10 and bottom 10 companies in the financial services group. We used the 2015-2016 annual growth rate for Virtu Financial since the company went public in 2015.
Three of the companies in the highest revenue per employee group – Ambac Financial Group, Genworth Financial and UPC Insurance – generated a double-digit three-year CAGR of RPE, while the remaining seven companies experienced declines in their three-year CAGR, including five companies that saw double-digit declines.

Two of the three companies with double-digit growth saw both increases in revenues and reductions in headcount, while the remaining company saw growth in both numbers. As for the five companies with double-digit declines in their three-year CAGR, all increased their employee headcount but saw declines in annual revenues.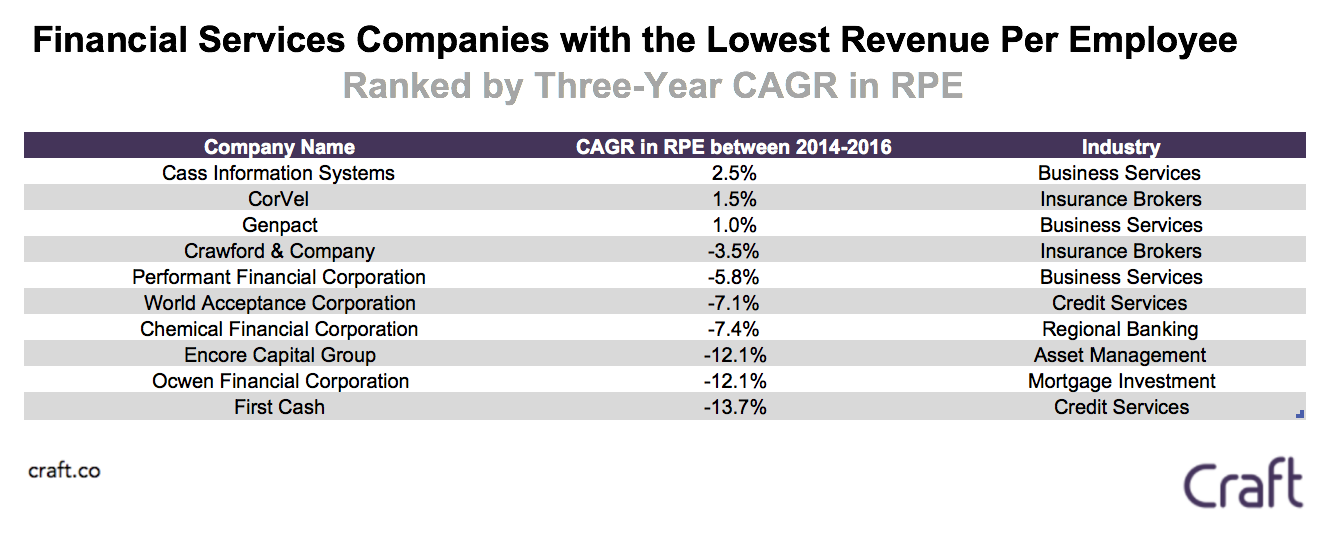 Three of the companies in the lowest revenue per employee group saw single-digit increases in their three-year CAGR of RPE while seven experienced declines. The three companies with positive growth in RPE saw gains in both revenues and employees. The biggest decliner, First Cash, saw its growth in employees significantly outpace its revenue growth, while the second biggest decliner, Ocwen Financial Corporation, experienced reductions in both revenue and headcount.


Neither the high nor the low RPE group showed growth patterns in RPE by industry. However, our analysis suggests that there may be differences in RPE between different sectors in financial services. Scalable financial service industries such as online brokerage platforms and insurance companies perform well by this metric whereas service-oriented businesses such as regional banks perform poorly.
Sources:
- Public Company Filings
- Craft analysis

About Craft:
Craft is a machine-learning powered data and analytics platform building the 'Source of Truth' on companies, and mapping the global economy. We organize data from thousands of sources to provide comprehensive, up-to-date sector and company profiles, ranging from early-stage to the largest companies in the world.

As the economy, and nature of work continue to undergo massive transformation, Craft's mission is to provide context and freely available tools to help people discover and evaluate companies and opportunities. Our platform is used for market and sector research, customer lead generation, competitive analysis and career search.

We welcome your feedback. Please feel free to contact us at hello@craft.co.