Battle of the Boxes: Dropbox vs. Box
In this company side-by-side comparison, we are going to analyze two leading cloud storage and services companies, Dropbox and Box. Box was founded in 2005 and Dropbox was founded in 2007.

In its recent IPO filing, Dropbox describes itself as "a collaboration platform where digital content is created, accessed, and shared with the world." In Box's most recent annual report, the company describes itself as  "a leading cloud content management platform that enables organizations of all sizes to securely manage their content while allowing easy, secure access and sharing of this content from anywhere, on any device."  If we focus in: Dropbox emphasizes facilitating collaboration, while Box focuses on content management.

To begin, we compare key financials and operating metrics for both companies in the table below.

Summary Profit and Loss
We can see that Dropbox is roughly double the size of Box in terms of Revenue and Gross Profit. However, Dropbox has only 1.6X Box's Operating Expenses, which means that Dropbox has a higher Operating Margin than Box does.
Summary Cash/Debt Position

Dropbox has double the cash of Box on its balance sheet and no debt, which gives them a net cash balance of $430 million. This is much higher in comparison to Box's net cash of $168 million.
Key Ratios
This table shows us that Dropbox as a company is roughly twice as productive as Box, as measured by Revenue per employee and Gross margin per employee.

The companies have similar gross profit margins, as well as R&D and General and Admin expenses as % of sales. However, Box spends a significantly higher percentage of revenues on Sales and Marketing, 60%, compared to only 28% for Dropbox.

Looking at how Operating Expenses are allocated, Dropbox is investing 45% of its total Operating Expenses in Research & Development, while Box is only investing 26%. Meanwhile, Box is investing 58% of its Operating Expenses in Sales & Marketing, whereas Dropbox is only investing 37%.
After comparing financial metrics and ratios, we look at the human capital metrics of the two companies, specifically their headcount. 
Headcount
The companies are very similar in size of team, each with close to 1,800 employees.


The following table shows some of the principle operating metrics of the two companies.
Operating Metrics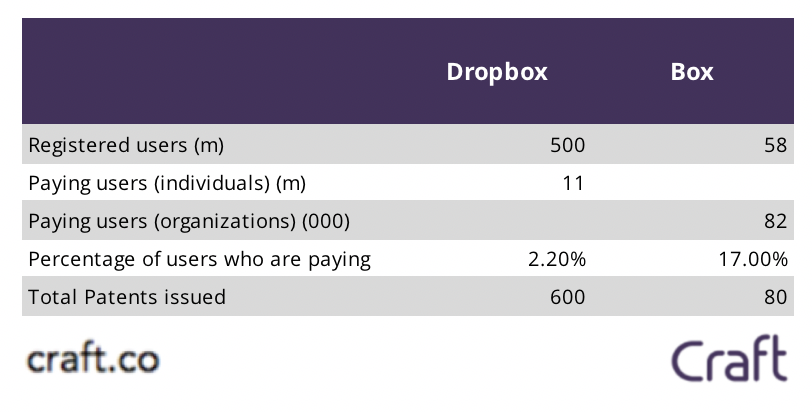 Dropbox has almost 10x Box's registered users. However, for Dropbox, only 2.2% of its users are paying, whereas 17% of Box users are paying (whether part of an enterprise account or a paying individual account).
***
Stock Market Performance
Box held its IPO in January 2015 with an initial share price of $14. Since then, its share price has increased 52% to $21.22 and today Box has a market value of $2.7 Billion.

Dropbox held its IPO in March 2018 with an initial share price of $21. Since then, its share price has increased 42% to $29.83 and today Dropbox has a market value of $12.3 Billion.

If we deduct Net Cash currently on the Balance Sheet of each company, we get the Enterprise Value. For Box this is: $2.5 Billion and for Dropbox $11.8 Billion.

Comparing Enterprise Value to Last Year Revenue, we see that the stock market is valuing Box at approximately 5.0X last year's Revenue, whereas it values Dropbox significantly higher, at 10.7X Revenue.

The following two graphs shows the evolution in share price of Box and Dropbox since their IPO: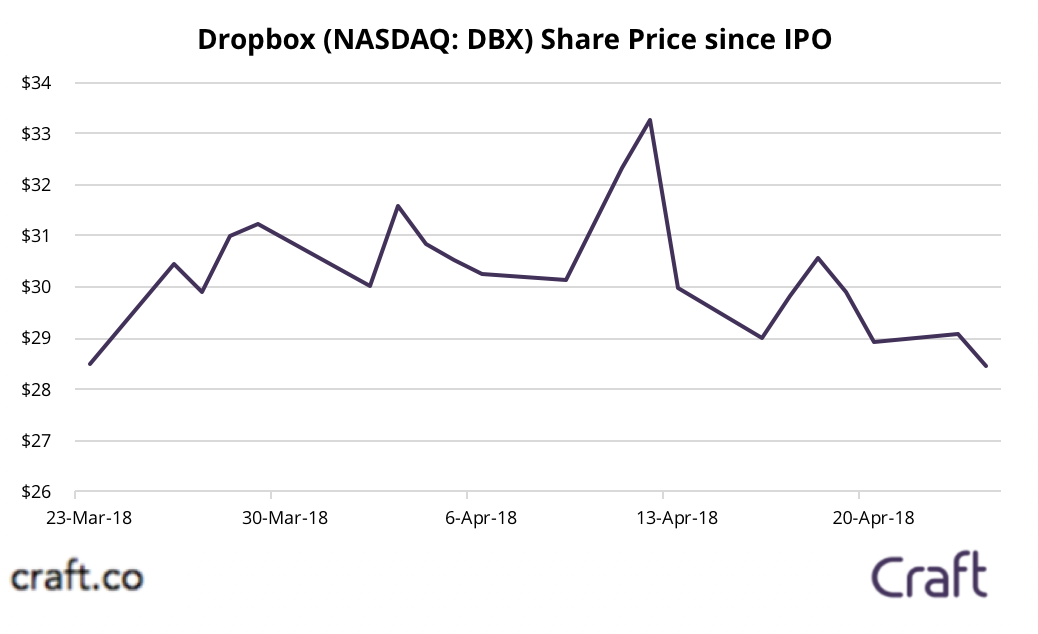 Key conclusions:
Box and Dropbox operate in the same sector, however, the execution paths of the two companies have been different. On many key metrics, Dropbox is outperforming Box by a factor of 2:1.
Looking at how the companies allocate resources, Box is significantly heavier on Sales & Marketing, whereas Dropbox is allocates proportionally more to Research & Development.


About Craft:

Craft is a machine-learning powered data and analytics platform building the 'Source of Truth' on companies, and mapping the global economy. We organize data from thousands of sources to provide comprehensive, up-to-date sector and company profiles, ranging from early-stage to the largest companies in the world.

As the economy, and nature of work continue to undergo massive transformation, Craft's mission is to provide context and freely available tools to help people discover and evaluate companies and opportunities. Our platform is used for market and sector research, customer lead generation, competitive analysis and career search.

We welcome your feedback. Please feel free to contact us at hello@craft.co.