Companies Bet Big on NBA Exposure Time
Companies love to throw big money into marketing to the audiences of sporting events. We saw this at the 2018 Super Bowl when Pepsico spent $5 million on 30 seconds of fame for their Doritos brand. Companies, however, are finding potentially more cost-effective and innovative ways to reach these audiences.

In the start of the 2017-2018 season, 21 of the 30 NBA teams emblazoned their new Nike-studded uniforms with a company logo located on a 2.5 by 2.5-inch patch on the jerseys' left breast. This commenced a three-year pilot program, the first in the history of American sports (besides Nascar), that allows sponsorship signage on jerseys as an additional revenue source.

As the Golden State Warriors and Cleveland Cavaliers face off tonight in Game 4 of the NBA Finals (a seven-game series), Rakuten and Goodyear, the companies featured on each team's jerseys will gain more exposure and brand recognition. According to GumGum Sports, each company is receiving $50 million in exposure.

The following table includes the list of NBA teams that have corporate sponsorships with their sponsorship amount listed if disclosed. Collectively, corporate sponsors spend approximately $137 million on the NBA.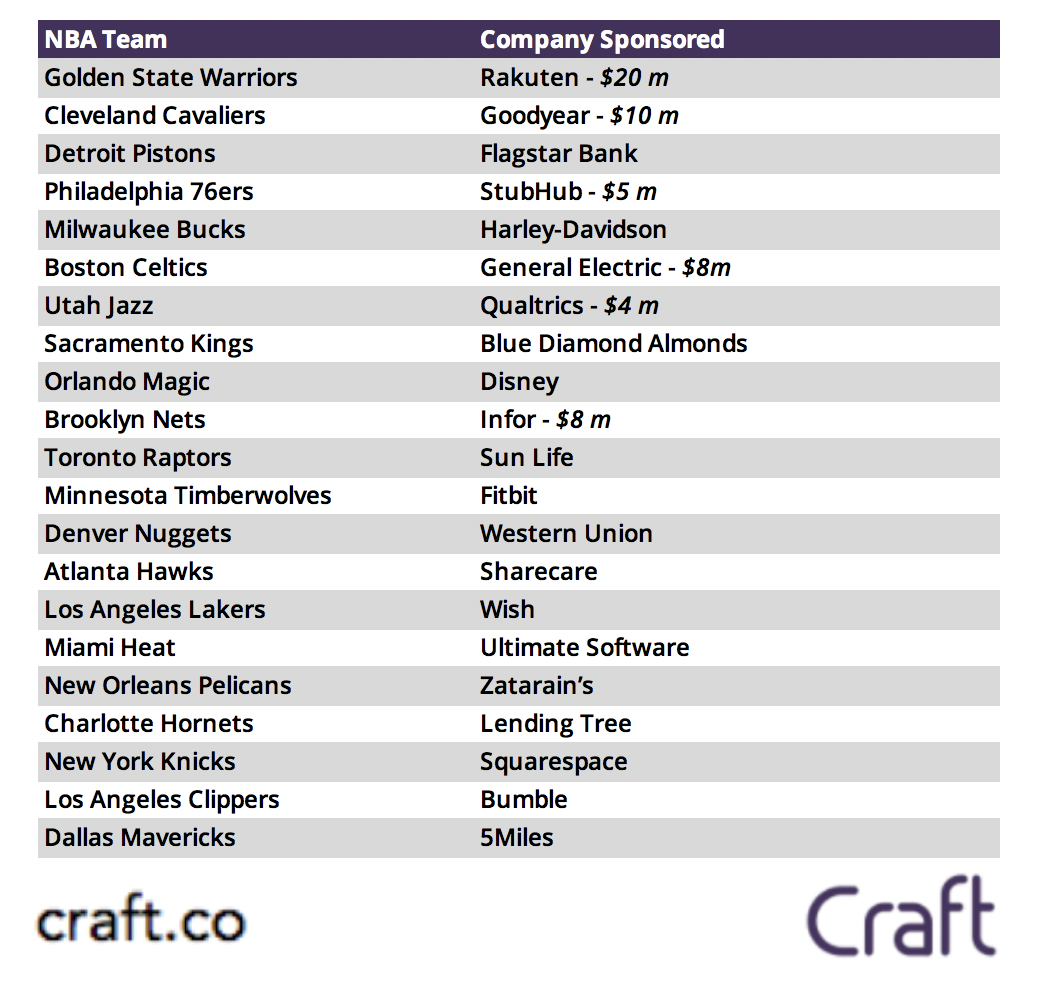 Goodyear possesses the second highest jersey sponsorship deal in the NBA paying the Cavaliers $10 million annually to showcase its logo. Rakuten, comparatively, has the highest jersey sponsorship deal paying the Warriors $20 million annually. This is double the second highest jersey sponsorship by the Cleveland Cavaliers.

We took a look at share prices to see if there has been a significant increase since November 2017.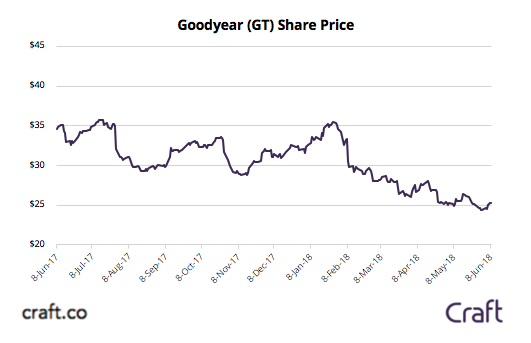 The charts below show no conclusive effect since the partnerships were announced, but it will be very interesting to track this trend over the next two years to see if the increased exposure and brand recognition affects the share price.

About Craft:

Craft is a machine-learning powered data and analytics platform building the 'Source of Truth' on companies, and mapping the global economy. We organize data from thousands of sources to provide comprehensive, up-to-date sector and company profiles, ranging from early-stage to the largest companies in the world.

As the economy and nature of work continue to undergo massive transformation, Craft's mission is to provide context and freely available tools to help people discover and evaluate companies and opportunities. Our platform is used for market and sector research, customer lead generation, competitive analysis and career search.

We welcome your feedback. Please feel free to contact us at hello@craft.co.