Are These The Best Companies To Launch Your Career?
At the end of 2018, Wealthfront released their Career Launching Companies List for 2019, comprising 156 high potential companies. According to Wealthfront, to qualify for the list, a company must be privately held, with revenue between $20M and $300M and a trajectory to grow over 50% for at least the next 3 years. Wealthfront built the list by surveying partners from top venture capital firms.
These companies are considered excellent companies to join for "career-launching" professional development, as they have proven product-market fit, and have a chance of becoming public in the coming years. We took a look at the current job openings at these companies.
Overall, out of the 156 companies, there were an average of 54 job openings per company, with a median of 43. In the table below, we rank at the top 25 companies with the most job openings, as of February 14th.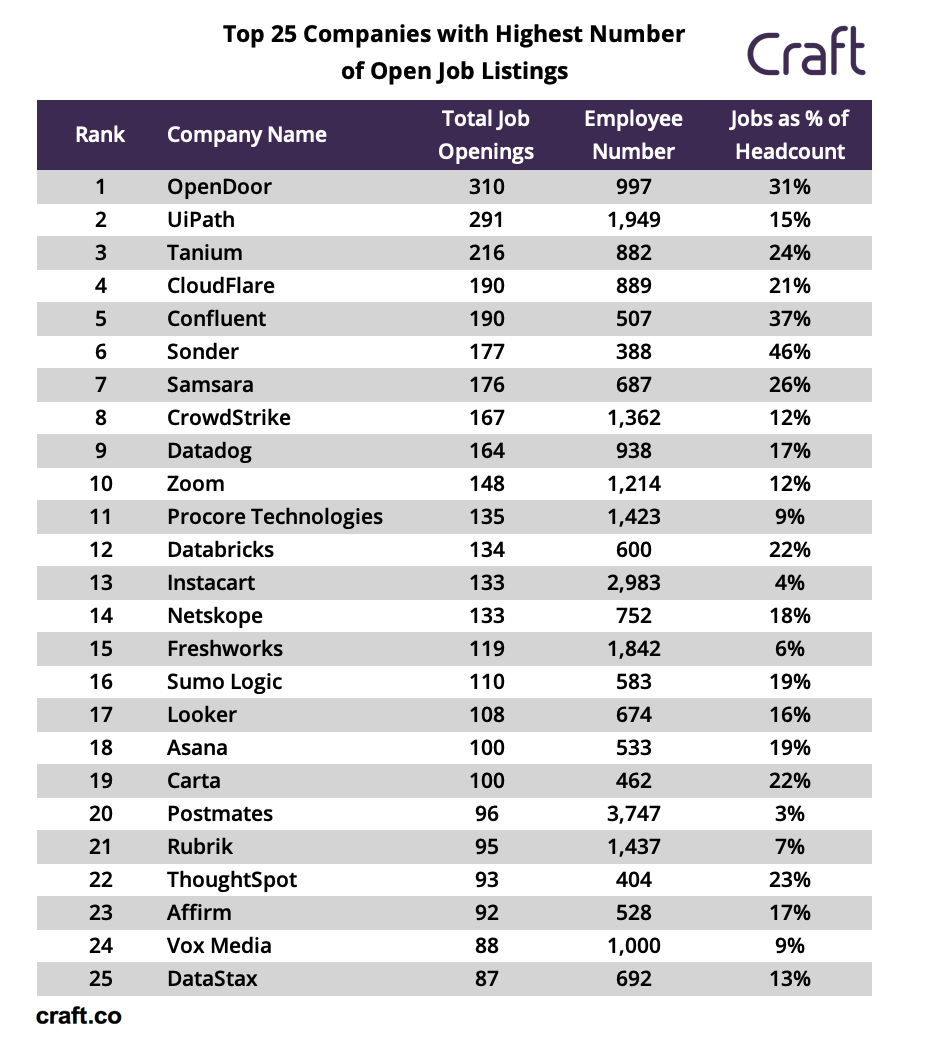 OpenDoor tops the list with 310 open job listings, followed by UiPath with 291 open jobs. Enterprise software companies (like Tanium, Cloudflare, Confluent, Datadog, and Asana) make up a large portion of the companies with the most listings. Popular on-demand companies, like Postmates and Instacart, also appear on the top 25 list.

Next, we look at a potential indicator of future growth - the number of job openings as a percentage of overall headcount. On average, these companies have a total number of job openings that represents about 12% of their total headcount.
The ranking below shows the top 25 companies with the most job openings compared to their existing headcount, as of February 14th.
Travel hospitality company, Sonder, tops the ranking with 177 job openings (46% of their total headcount of 388 employees). Enterprise software companies, like SignalFx, ThoughtSpot, Algolia, and Checkr, rank well in this list, as well as fintech companies, like Earnin, Plaid, Deem, and Carta.
The table below shows the top 25 companies with the least number of job openings compared to their overall headcount, as of February 14. To enable a fair comparison, we excluded from this ranking companies in the on-demand economy, such as Rover.com, Thumbtack, Postmates, and Instacart, because many of their openings are for on-demand workers, rather than full-time positions.
Elementum, Ionic Security, and Jana top the list with no current job openings. Media companies, like Buzzfeed, Pond5, and POPSUGAR, have a low number of job openings compared to overall headcount, as well as Human Resources companies, like FinancialForce and HireVue.
These companies are identified as having high potential for launching a successful career; however, some of them are not actively hiring, at least not via job listings. To land a job at these, may require working your network, getting to know people already at the company, and trying to identify a need they may have for which they have not listed a position. Who knows, you might get extra points for creativity and initiative!
About Craft:
Craft is a machine-learning powered data and analytics platform building the 'Source of Truth' on companies, and mapping the global economy. We organize data from thousands of sources to provide comprehensive, up-to-date sector and company profiles, ranging from early-stage to the largest companies in the world.
As the economy, and nature of work continue to undergo massive transformation, Craft's mission is to provide context to help people discover and evaluate companies and opportunities. Our platform is used for supply chain intelligence, investment analysis, customer lead generation, and competitive benchmarking. 
We welcome your feedback. Please feel free to contact us at hello@craft.co.